Make your next move to or from Leander an easy one! Our professional moving team is ready to make your next move stress-free. Choose Einstein Moving Company, it'll be the smartest move you ever make!
Book Your Move Now
Award Winning Service In Leander!
Looking For A Professional Moving Company In Leander?
Our expert team of North Austin and South Austin movers have grown so much we've moved into Leander! We're excited to provide our outstanding customer service to the residents of Leander and surrounding areas including Round Rock, Cedar Park, and George Town.
Ready to schedule your next move? Book with Einstein Moving Company today, it's the smartest move you'll ever make!
Our Leander Moving Company Reviews
Get In Touch With Our Leander Team
Why Our Movers Love Leander
Leander hasn't stopped growing! More and more neighbourhoods are popping up in this beautiful city. Its proximity to Austin — and Austin's job market — makes it a great place to live if you want a quick and easy route to work but a home life outside the city. There is also no shortage of great schools to meet the demand of new students.
If you're more of an adventurer, Leander is just a short drive from several state parks. Many of our movers frequent parks like Longhorn Cavern State Park for walks with their families, friends, and pets. There are so many things to do and see in Leander. From the shopping and local breweries to the ziplines in Lake Travis, you're sure to find something you'll love.
Are you ready to make the smart move with an even smarter Leander moving company? Choose Einstein Moving Company!
Meet Our Leander Movers
Frank W.
Management
Frank was born and raised in Upstate New York where he lived a mostly quiet life as a small engine mechanic deep in the back woods of Dutchess County. Growing up surrounded by nature, the outdoors quickly became one of his passions. Frank is also a multi-talented musician, performing and touring with bands, while also recording/producing artists and composing music for film in his spare time. In 2011 Frank moved to Austin to pursue a different adventure, and as Austin being the music capital, has felt very comfortable making a home here. Currently, Frank and his 2 children enjoy everything Austin has to offer, and don't plan on leaving any time soon.
Garrison C.
Management
Garrison was raised in Copperas Cove, a town just outside of the famous military base Fort Hood. In his free time you'll either find him spending quality time with his wife, playing video games, or lifting weights. Garrison has always been interested in fitness as he spent all of his free time in high school at the gym trying to get bigger and stronger. After high school he pursued his degree in Nutrition to get a better understand of health and fitness as a whole. Garrison now just recently got married and lives in Leander with no plans to leave any time soon.
Brent O.
Mover
Brent was born and raised in Massachusetts. From there he decided to join the Army and serve his country. Since getting out of the Army, Brent enjoys working on, and driving all types of vehicles. He spends his free time on his motorcycle and attending charity events across the country. Music, movies, and anything Star Wars peaks his interests.
Dawson F.
Mover
Dawson was born and raised in the Bayou State near Stonewall, LA.  He graduated from Northwestern State University in Natchitoches, LA with an Industrial Engineering degree.  He worked as a Skeeter Boats engineer for two years before recently moving to the Austin area to live near his family.
In his free time, Dawson enjoys fishing, horses, live music, and spending time with his pets, family and friends.  Since paying close attention to detail and arranging the best fit are part of his engineer DNA, he looks forward to helping with your next move!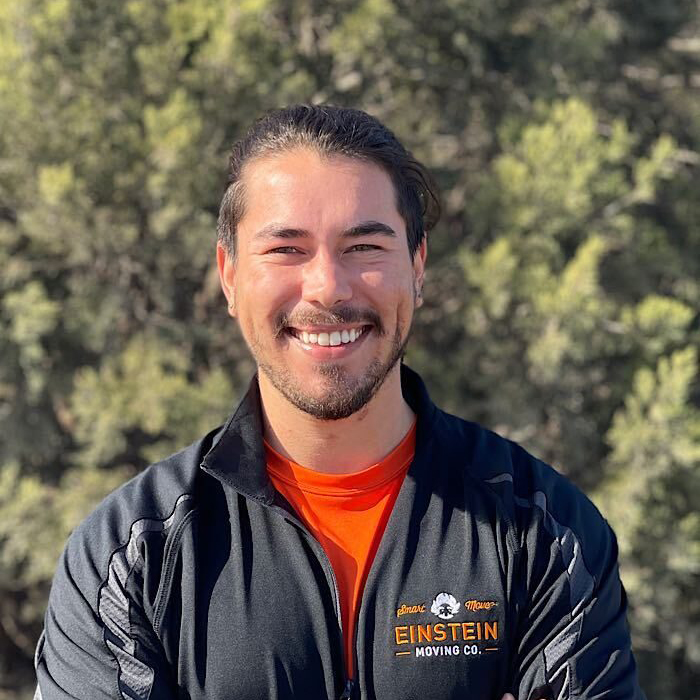 Hector Z.
Mover
Born during a blizzard in Denver Colorado, the second of his name and first of four siblings. Hector moved to Central Texas in 2000, raised in a family oriented home and taught to lead by example. Hector graduated from Bastrop High school 11th in his class, growing into a Jack of many trades including health sciences, martial arts, and being a musician. He then ventured to Baylor with sites set on a neuroscience major but also to flourish in new places and make friends with new people.
Now a husband and father to a son, Hector continues his family centered legacy. He has played part in many trades in his professional career such as being a diesel technician, phlebotomist, becoming a clothing store manager, to online marketing. He is constantly curious about the world's phenomena, taking the time to appreciate life and striving to learn something new, while helping others along the way. All this to sum up the earnest family man you see here, ready to help make your move less daunting by being a part of the Einstein Moving team.
Houston R.
Mover
Houston was born and raised in and around Lincoln Nebraska. As such, he was blessed with the opportunity to experience an array of different communities while growing up. Whether in a suburban community, or in sparsely populated rural locality, he lived with, and learned from an array of good-hearted folks. He completed high school education at Lincoln east high school, before enrolling at Nebraska Wesleyan College. After realizing that better opportunities, both in terms of educational attainment and future employment were available elsewhere, Houston packed up and headed towards Texas. When he is not completing schoolwork or studying for exams, Houston spends his time in a number of different ways. Throughout his life he's greatly enjoyed tearing into a good book. And while his tastes have developed from an insatiable appetite for fiction, towards a more grounded interest in headier non-fiction, he still occasionally indulges in reading classic sci-fi or fantasy stories. This tendency towards an introspective life of the mind continues by consuming lectures and debates, both in person and online, surrounding any number of the aforementioned topics. Last but not least, much like most other guys his age, Houston also partakes in video games.
Ian I.
Mover
Born at Seaton Hospital in Austin, Ian spent most of his formative years in the Northwest region of the city. After graduating from Westwood High School in 2010, he made the bold choice to enlist in the United States Marine Corps as an Infantry Rifleman, twice deploying overseas in support of Operation Enduring Freedom. Upon completing his commitment in the military, Ian promptly enrolled in Austin Community College in order to pursue a degree in Architectural Engineering. Being an Austin native, Ian has always taken advantage of the numerous hike and bike trails around town, not to mention the myriad swim spots. You can always catch him rucking about Austin's roadways and nature trails with his dog Bella by his side. When the day doesn't agree with adventure, Ian still likes to focus part of his time on exercising and improving both his body and his mind. Recognizing the essence of balance in one's life, he's always down to grab a slice and a cold drink with his friends after a difficult day at the office. Ian is excited to bring his hard work and experience to the team at Einstein and ensure your next move is a success!
Josué C.
Mover
Born in Mexico, Josué moved to the United States with his family and spent most of his years growing up in Katy TX. Josué spends a lot of his time pursuing his passions and achieving personal goals for himself. He loves to play and spectate sports, especially football, while also enjoys wrecking noobs on his Xbox on his downtime. Josué is also a very talented cook of authentic Mexican dishes, a lover of jazz music, and just a very determined yet kindhearted soul, who is down to earth, and a very personable human being that you can always count on. Josué enjoys his 2nd family with his Einstein brethren, and is excited to bring his hard work ethic and passionate heart to your next move, to ensure it is stress free and memorable!
Makenzie P.
Mover
Makenzie moved to Texas in 2021. However, she recently moved to Cedar Park, TX, in December of 2022. She grew up in the small town of Catawba, WI, with a population of 115. Up north, she came to love hiking, farming, and lots of other things early in life. After work, she enjoys going on hikes and other outdoor activities. She also enjoys watching TV with her dogs. You might also catch her enjoying a cruise on her motorcycle. When she's not spending time with her dogs or doing outdoor activities, Makenzie will be playing on her computer.
Mark P.
Mover
Mark was raised in a small town called Crystal City, 20 minutes from the Texas/Mexico border. Following one of his childhood dreams, he became an artist, a tattoo artist to be exact. He's now been tattooing for 9 years, striving to improve his talents every single day. He resided in his home town until the age of 23 before getting the opportunity to move to his dream city, Austin. Austin is very accepting of his expressive self, which helps him feel at home. Now having been in Austin over four years, he has adapted and developed his art to new heights. Always a fan of physical labor and staying active, Mark saw an opportunity at Einstein Moving Company. He looks forward to helping out on your next move!
Matt P.
Mover
Matthew was born and raised in Jeanerette Louisiana. After graduating High School, he moved to Florida, and enlisted in the military. After serving 5 years and 2 deployments to Afghanistan and Kuwait, he was medically retired. Transitioning from "the army life" he moved to Texas and decided to take on a new challenge, college! After 3 years and many long nights Matt obtained his associate degree. Matt lives with his girlfriend and son who are his world, and doesn't plan on leaving Texas anytime soon.
Qu'Onu J.
Mover
Qu'Onu (Keanu) was born in Colorado Springs, Colorado. He moved back and forth between Maryland, Colorado and Washington state most of his growing up. Qu'Onu graduated high school in 2013 and then enlisted in the military in 2014 where he served 9 years at three different duty stations, including Fort Hood Texas, JBLM Washington and Fort Campbell Kentucky. Qu'Onu served as a 91B - Wheeled vehicle Technician the entire time. He has four kids (two daughter and two sons) with his wife who grew up with him in Colorado. Qu'Onu's hobbies include gaming, working on vehicles, and skateboarding. He also enjoys hiking, and most of all, spending time with his family.
Remington B.
Mover
He was born in Houston Texas and lived there until he graduated from Clear Lake High School. From there he went into the Marine Corps, where he met most of his best friends. After he got out of the Marine Corps, he was bartending in downtown Houston. After a while, he decided to move to the Austin area where he started going to school to become an Art Teacher. In his free time, he enjoys making art as a creative outlet, and one day he'd like to be able to teach people how to use art as their outlet as well! he also enjoys working out and being outside playing with my dogs.