Award Winning Service In Leander!
Ready to schedule your next move? Book with Einstein Moving Company today, it's the smartest move you'll ever make!
Get In Touch With Our Leander Team
Are you ready to make the smart move with an even smarter Leander moving company? Choose Einstein Moving Company!
Meet Our Leander Movers
Frank W.
Management
Frank was born and raised in Upstate New York where he lived a mostly quiet life as a small engine mechanic deep in the back woods of Dutchess County. Growing up surrounded by nature, the outdoors quickly became one of his passions. Frank is also a multi-talented musician, performing and touring with bands, while also recording/producing artists and composing music for film in his spare time. In 2011 Frank moved to Austin to pursue a different adventure, and as Austin being the music capital, has felt very comfortable making a home here. Currently, Frank and his 2 children enjoy everything Austin has to offer, and don't plan on leaving any time soon.
Khevan D.
Management
Khevan moved to Austin, Texas in 2018 after graduating from the University of Texas at El Paso with a Bachelors degree in Biology. He spent some time working as an Uber driver to learn the city and enjoy a flexible work schedule before deciding to join the team at Einstein Moving.
Khevan has a Cocker Spaniel at home whom he adopted in September of 2016. When he isn't walking or training his beloved Cocker Spaniel, Ruffles, he enjoys playing video games and catching up on the latest TV series.
Austin G.
Mover
Austin was born and raised in a small town just outside of Atlanta Georgia for the first 9 years of his life. It took quite a lot of moving from state to state for
about 2 years before he and his family finally settled down in the great state of Texas! While in Texas, Austin began to explore a lot of new hobbies and activities that he
enjoyed. Austin began playing football in the 7th grade as an offensive lineman all the way until the end of high school. Besides football, Austin also enjoys playing his
xbox and pc with friends and hanging out with friends and family as much as possible. Austin has been married to his best friend since April fools day of 2021, and is a
very happy and proud father of a beautiful baby girl. Austin started working at Einstein Moving Company because he is a very hands-on guy and loves the idea of getting a
work out at work! Austin is looking forward to helping create a seamless and stress free move for you!
Bailey K.
Mover
Bailey was born in Aurora Colorado, and grew up in several parts of California. Since he was very young he's always been very active in the sports world, playing several sports throughout his life all the way through high school and college. However, music was the other half of his life, and ended up becoming a very large role for his future plans.
He taught himself how to play the guitar, drums, and a bit of piano many years ago, and it even influenced his choice to go to the music college Full Sail University to get a degree in music production. One day he hopes to open a label, and not only produce his own music, but also be involved in the music industry, and other artists as well! When it comes to free time Bailey is usually either outside enjoying the fresh air, or playing an instrument.
Chance H.
Mover
Chance was born in Round Rock TX, but his family moved to a small town in southern Indiana when he was one year old. For close to 20 years Chance grew up in Evansville, Indiana  surrounded by corn fields and farm land. Growing up Chance participated in track,  cross country, and enjoyed playing basketball in his free time. He decided to move back to Texas to get a breath of fresh air and live a new lifestyle. Nowadays he spends his free time either playing basketball, video games, or hanging out with friends. Chance is excited for his new chapter with Einstein and is happy to help you with your next move!
Dylan S.
Mover
Dylan was born in Abilene, TX, and raised across the street from Fort Phantom Hill nearby. After graduating from Abilene high school, he decided to head south to Cedar Park where he has been living ever since. In the future, Dylan hopes to return to school and resume his studies, but in the meantime hopes to take on more responsibilities at Einstein. A few things Dylan loves is conquering new challenges and meeting new people, something offered daily in the moving business. In his free time Dylan likes spending quality time with his girlfriend and two weenie dogs, playing video games, or grilling outside. He looks forward to helping with your next move!
Edward W.
Mover
Edward was born in Jacksonville, NC. His father was stationed at Camp Pendleton ( Oceanside, CA) and the San Diego area where Edward was raised and grew up most of his life. Edward has a passion for basketball (Lakers and Bulls) and also enjoys art and fashion. After graduating high school in 2010, Edward left California and headed to Texas to support and help out his mother, who has had extensive back surgeries and is disabled. Edward would work in the food industry and has been a cook for years.  Edward also worked the hospitality industry for 3 years, and decided he wanted something more active and on the go. That's when he found his new home with Einstein Moving Co. who he considers his 2nd family, and loves what he is doing now. Edward looks forward to making your move as stress free as possible!
Garrison C.
Mover
Garrison was raised in Copperas Cove, a town just outside of the famous military base Fort Hood. In his free time you'll either find him spending quality time with his wife, playing video games, or lifting weights. Garrison has always been interested in fitness as he spent all of his free time in high school at the gym trying to get bigger and stronger. After high school he pursued his degree in Nutrition to get a better understand of health and fitness as a whole. Garrison now just recently got married and lives in Leander with no plans to leave any time soon.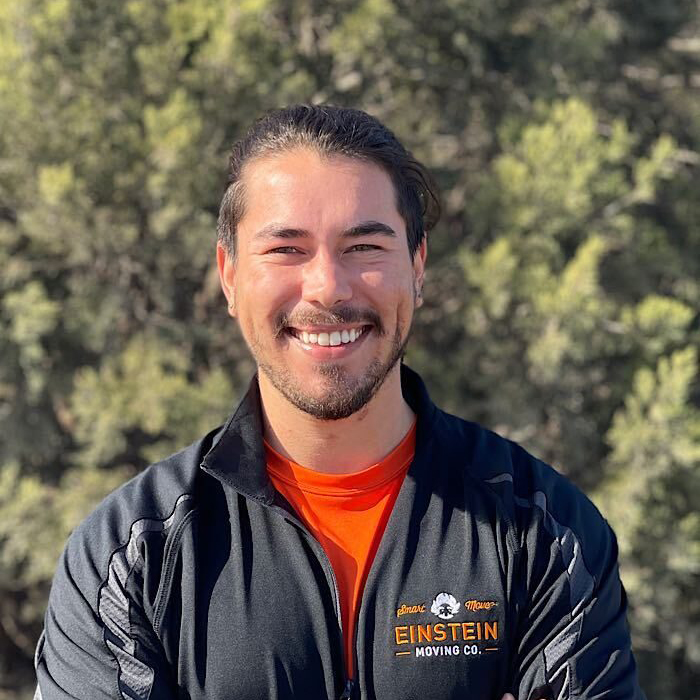 Hector Z.
Mover
Born during a blizzard in Denver Colorado, the second of his name and first of four siblings. Hector moved to Central Texas in 2000, raised in a family oriented home and taught to lead by example. Hector graduated from Bastrop High school 11th in his class, growing into a Jack of many trades including health sciences, martial arts, and being a musician. He then ventured to Baylor with sites set on a neuroscience major but also to flourish in new places and make friends with new people.
Now a husband and father to a son, Hector continues his family centered legacy. He has played part in many trades in his professional career such as being a diesel technician, phlebotomist, becoming a clothing store manager, to online marketing. He is constantly curious about the world's phenomena, taking the time to appreciate life and striving to learn something new, while helping others along the way. All this to sum up the earnest family man you see here, ready to help make your move less daunting by being a part of the Einstein Moving team.
Ian I.
Mover
Born at Seaton Hospital in Austin, Ian spent most of his formative years in the Northwest region of the city. After graduating from Westwood High School in 2010, he made the bold choice to enlist in the United States Marine Corps as an Infantry Rifleman, twice deploying overseas in support of Operation Enduring Freedom. Upon completing his commitment in the military, Ian promptly enrolled in Austin Community College in order to pursue a degree in Architectural Engineering. Being an Austin native, Ian has always taken advantage of the numerous hike and bike trails around town, not to mention the myriad swim spots. You can always catch him rucking about Austin's roadways and nature trails with his dog Bella by his side. When the day doesn't agree with adventure, Ian still likes to focus part of his time on exercising and improving both his body and his mind. Recognizing the essence of balance in one's life, he's always down to grab a slice and a cold drink with his friends after a difficult day at the office. Ian is excited to bring his hard work and experience to the team at Einstein and ensure your next move is a success!
James (Jay) T.
Mover
James is a professional mover and has been in the moving industry since the age of 14. He  thrives on providing customers with quality moves across the USA. Moving has always been his passion, and he wouldn't trade it for the world.
Jeremy T.
Mover
Jeremy was born in Atlanta, Georgia. Throughout his life he would move between Texas, Florida, and California, trying to find some place to call home, before settling back down in Cedar Park. In his spare time he enjoys creating art, the outdoors, and learning about animals, while also aiming to one day live by the ocean to pursue marine biology. For now he's enjoying life around Austin with his fiancé and two cats. Jeremy is excited to help you with your next move!
Josué C.
Mover
Born in Mexico, Josué moved to the United States with his family and spent most of his years growing up in Katy TX. Josué spends a lot of his time pursuing his passions and achieving personal goals for himself. He loves to play and spectate sports, especially football, while also enjoys wrecking noobs on his Xbox on his downtime. Josué is also a very talented cook of authentic Mexican dishes, a lover of jazz music, and just a very determined yet kindhearted soul, who is down to earth, and a very personable human being that you can always count on. Josué enjoys his 2nd family with his Einstein brethren, and is excited to bring his hard work ethic and passionate heart to your next move, to ensure it is stress free and memorable!
Kylie L
Mover
Kylie was born in Dallas, Texas and moved to Ada, Oklahoma when she was 8. Kylie moved to Florida in 2019 and went to a makeup school, becoming certified in almost any form of makeup, specializing in horror makeup. Kylie finally made her way back to Texas and she plans to stay here for a long time.
Kylie spends a lot of her time drawing on her iPad, gaming, or playing with her two dogs Scamp and Olivia, and her cat Kikyo. Recently Kylie started focusing more on health and fitness. Working to get stronger and healthier to run with her animals and help her parents with physically demanding tasks.
Mark P.
Mover
Mark was raised in a small town called Crystal City, 20 minutes from the Texas/Mexico border. Following one of his childhood dreams, he became an artist, a tattoo artist to be exact. He's now been tattooing for 9 years, striving to improve his talents every single day. He resided in his home town until the age of 23 before getting the opportunity to move to his dream city, Austin. Austin is very accepting of his expressive self, which helps him feel at home. Now having been in Austin over four years, he has adapted and developed his art to new heights. Always a fan of physical labor and staying active, Mark saw an opportunity at Einstein Moving Company. He looks forward to helping out on your next move!
Read P.
Mover
Read was raised in Mooresville NC and moved to Central TX in late 2017. He has no plans of leaving and loves the opportunity to welcome new people every day to this wonderful place. After graduating from Lake Norman High School in 2012, Read enlisted with the Air Force, and started his journey into adulthood. Leaving the Air Force due to an injury, he spent the next few years in Raleigh NC following in the family footsteps by working in the Beer industry for the next 5 years, learning many skills that would build him into a well rounded individual. Having worked in many different industries outside of beer in his youth and young adulthood, Read is passionate, optimistic and has a hard work ethic revolving around teamwork and communication.
Read enjoys anything that has to do with the Cartoons, Silly movies, Video games, Outdoor Activities, Camping, Beer, Music and Talking most of all!
Ty S.
Mover
Ty was born and raised in the Austin area and continues to call this great city home to this day. After graduating high school in 2017, he took some time to explore his hobbies and determine what route he wanted to take forward. After a bit of time working a few odd jobs and exploring the outdoors with friends, Ty decided to come over to Einstein moving per a friend's recommendation. In the future, Ty aims to further his education, perhaps in the real estate sector. When he isn't working, Ty enjoys playing video games, music, swimming, and hanging out with friends. He looks forward to helping with your next move!