Award Winning Service in San Antonio!
Ready to schedule your next move? Get your free moving quote today!
San Antonio Moving Customer Reviews
Get In Touch With Our San Antonio Team
Meet Our San Antonio Movers
Dustin Street
Management
Growing up just outside of Odessa in West Texas, Dustin is the oldest of five siblings with three younger brothers and a younger sister. During his time at Permian High School, he was an All American Gymnast and a member of the 2003 state team. Dustin continued being active in the gymnastic community following high school, even coming to Austin to become an Advanced Tumbling Instructor. A few years later, with the country in the midst of a recession, Dustin began looking into work he perceived as fulfilling yet recession proof. After careful deliberation, he decided to return to school to obtain an E.M.T. certification at Odessa College with aspirations of becoming a firefighter. In fact, he got his first taste of the business while still in college when his fan short circuited, setting his room ablaze. Showing keen awareness and a natural aptitude for fighting fires, Dustin was able to contain the flames before the first truck arrived. Following his tenure at Odessa College, Dustin worked for American Medical Response and still recalls the day his team drove down to San Antonio to help wounded Iraq and Afghanistan war heroes off of the tarmac. After his two year stint with American Medical Response, Dustin headed south to work in the oil field, continuing a long family line of oil field Roughnecks. Not one to rest on his laurels, Dustin eventually worked his way up to Derrickhand. Though his career path has always been important to him, the true love of his life is his beautiful fiance, with wedding plans set for November of this year in Jamaica. In the meantime, Dustin looks forward to taking care of your moving needs!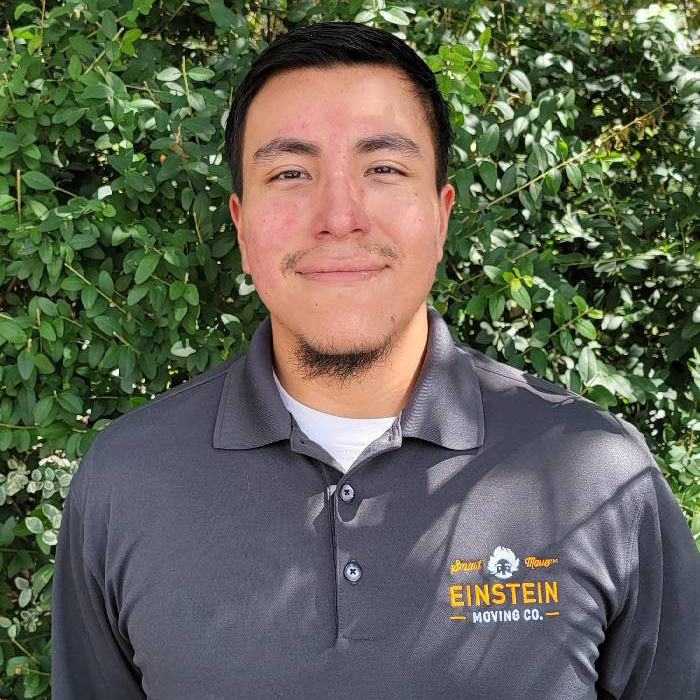 Joseph Pederson
Management
My name is Joseph. I graduated from Weslaco East High School in 2014. Located in, you guessed it, Weslaco, Texas. I'm the oldest of 4 and I pride himself on being a great role model for my younger siblings. After high school, I moved to San Antonio where I enrolled at the University of Texas at San Antonio. I'm currently studying criminal justice. My ultimate goal one day is to hold the highest position possible within the San Antonio police department.
During my free time, I like to stay active by going to the gym, walking my dog, or playing on intramural sports teams. I'm a huge football and basketball fan.
I look forward to working with you and helping you with your move!
Adam C.
Mover
Adam was born in Lakewood California and lived in the northern California area for most of his childhood. He traveled and lived throughout the Pacific Northwest before finally settling down in San Antonio Texas. He spends his time with his two daughters and his son exploring new places! Some of their favorite activities include skateboarding, sidewalk games, video games and a little bit of anything fun. Adam takes pride in the work that he does and looks forward to helping you on your next move!
Adan P.
Mover
Adan was born and raised in San Antonio TX and lived his whole life there before moving to San Marcos TX to pursue a BS in Nutrition and Dietetics. During his time at Texas State University, Adan has made the Deans list throughout multiple semesters, has been involved with organizations such as Bobcat Idea which serves as an outlet for students interested in doing research on campus, and has had multiple jobs on and off campus including being an RA, working at the student recreation center, and working at the San Marcos retail outlets. Adan hopes to one day commission in the Air Force as an officer after obtaining more experience in the workforce. Adan enjoys things like Olympic weightlifting, disc golf, hiking, traveling, and trying new restaurants. Some of his favorite places to travel include Vail, Breckinridge, Las Vegas, and San Diego. Adan is also an active member of the Texas State Weightlifting team and competes at both local and national meets.
Alex E.
Mover
Alexander was born in California and moved to Texas around the age of 14. He enjoys hard work and a relaxing home environment. Alexander first began earning money for himself at a young age flipping vehicles, afterwards working in multiple sales and labor jobs. Alexander on his off days usually spend his day riding his motorcycle with friends and spending time with family and 2 dogs. He also enjoys fishing when the opportunity is there, preferring to spend his days off outside the house.
Andres (Andy) C.
Mover
I was born and raised in San Antonio, Texas. I love my city and the people in it. I am an avid chef always looking for that next delicious meal to create. I have work in kitchens for restaurants in the Pearl complex and learned a lot of great skills during that time. Cooking and working hard are passions of mine. I want to do good work and spread positivity in anything that I do. I never stray from a challenge and am a dedicated worker. I look forward to helping with your move!
Bernard J.B.
Mover
Brandon A.
Mover
Hello my name is Brandon Aguilar.  I'm 22 years old.  I was born and raised in San Antonio, Texas. I have a passion for keeping a nice physique and living a healthy lifestyle. I enjoy cooking healthy meals, being in the gym lifting weights, and doing cardio. I attended James Madison High School, and after graduation I moved out on my own and have been living the "adult life". I also did a couple of semesters of college at Northeast Lakeview. I have also made a small business and Facebook page called SupremeClean Mobile Carwash & Detail! I'm always putting 100% in everything I do and take pride in results big or small! I am excited to help you with your move!
Chris C.
Mover
Chris was born and raised in San Antonio, Tx. He really enjoys playing football and basketball and is looking forward drafting for his fantasy football team. He is chasing the trophy this year. When not at work, Chris loves to hang out with friends and have fun.
Cole C.
Mover
Cole Clark- born in Baltimore MD and moved to San Antonio when I was 8 and have been here ever since. I graduated from Clark high school in 2016 and have been working ever since. I like being physical and outdoors and working hard is just in my nature.  I have been a ranch hand for years and dabbled in other experiences like construction and management. I've played sports most of my life and I'm also a musician playing bass in a band. I look forward to helping you with your move!
Dominique P.
Mover
Dominique is a very positive person that likes to learn a lot of new things and likes to meet new people. He goes to the gym regularly and likes to play basketball. Dominique likes working a lot so that it gives him something to do everyday instead of just sitting at the house. He is self motivated and enjoys the company of people who are like minded. His goals in life are to have a secure job that will help him in the future. He wants to be the best at any and all jobs given to him and likes for the people that he works with, to share that same drive.
Elijah A.
Mover
Fancying himself a visionary, Elijah spends his free time reading, skateboarding, boxing, writing, and bodybuilding. He believes we are put on this planet to connect and uplift the spirits of those who stop fighting for the life they deserve. At one point Elijah was the person who just accepted the safe route, though he knew what he wanted to do: serve and help people. Unsure of the direction he wanted to take with his life, he joined the Marine Corps where he truly gained insight into what it means to live honorably and selflessly. By pushing his body and mind to the absolute limit, Elijah gained a high level of professionalism through the visceral and physical experience that is the Marine Corps. Post honorable discharge, he was able to finish his studies in Criminal Justice and was on the verge of becoming a police officer in New York City when he discovered what his true purpose was: To become a public speaker and utilize his gifts to open up minds and provide life guidance. While in the process of altering his career path, Elijah also worked as a bike messenger in NYC and began the process of becoming a Kickboxing Instructor. This propelled him into a world of endless possibilities, for that platform allowed him to meet and speak with people on both a mental and physical level while also allowing him to show people the way toward a prosperous and fulfilling life through physical training. Additionally, Elijah is still actively pursuing his public speaking and communications profession in order to fully realize his goals and dreams. In the meantime, he looks forward to giving you an amazing moving experience with his physical capabilities, excellent communication skills, and consistently positive outlook!
Franklin K.
Mover
Franklin was born in Norfolk, Virginia and just recently moved down to Texas to start a life with his fiancé. Being apart of a military family has taught him the meaning of hard work and is not afraid to get his hands dirty. Franklin has extensive background with customer service and enjoys helping people in numerous ways. In his free time he enjoys being outside, and staying active. He looks forward to helping people start the next chapter of their lives with Einstein Moving.
James T.
Mover
James was born in Asheville, NC, and after three weeks his mother moved to Jacksonville, FL where he lived for the next 25 years attending First Coast and Fletcher High School. After graduating he worked retail, restaurants, grocery, and even a carwash. In 2016 he saved to move to San Antonio, TX to get a fresh start where he discovered his love for working at a moving company. At 30 he started thinking about that happiness of a new place everyday and the physical aspect, especially getting paid to exercise? He didn't have to be Einstein to know that was a smart move! Currently he loves playing videogames as well as basketball occasionally. When he's not active he loves anime and spending time with his wife. James cant wait to help you on your move!
Jeremy G.
Mover
Jeremy was born and raised in San Antonio, Texas and graduated from Douglas MacArthur high school in 2015. He is always happy to help anyone in need and enjoys being of service to others. Jeremy enjoys going on bike rides and hiking in his free time.  He also enjoys hanging out with his family and playing sports or other outdoor activities. He loves to play video games on the PS4 and is a car enthusiast who drives a Orange GSR Evo X. He looks forward to helping with your next move!
John I.
Mover
Hello I am John! I was born and raised a soldier in Laredo Texas, a "soldier" being the baby in a "small" family of seven siblings, with four sisters and two older brothers. One could say that I grew up pretty fast. After graduating high school in 2011 I moved to Austin with my girlfriend, now wife, who wanted to start a band! She was a born musician and I taught myself to try to keep up with her. Fast forward seven years and while we don't have a band I now teach music theory in my community church and run a small record label consisting of around 15 local musicians! It has been a crazy journey but the ride has taught me to stick with my goals no matter the odds. While living in San Antonio I plan to return to UTSA to finish my degree in construction science and management. In my free time, my wife and I enjoy being outdoors or playing our music.
Joseph (Jay) R.
Mover
Jay grew up in El paso and attended an ACC college for computer science. He somehow wound up as an auto tech and a mover for Einstein Moving. He has worked at multiple branches and happy to be here. Jay has a passion for bodybuilding and music and hopes to someday make a career out of 1 of them.
Michael H.
Mover
Michael was born and raised here in San Antonio, TX. He received his Bachelor's degree in Business Management in only 3 years. Afterwards, he joined the military and served in the Air Force.
Michael's goal is to travel as much as he can and see the world in his free time. He also loves playing chess and board games in general! Trying new foods across town is also a hobby of his because food is just so good and can be made in so many different ways!
Michael L.
Mover
Hello, I'm Michael Larson. I have lived and grown up in San Antonio my entire life and graduated from Judson high school. Since I have only left the state once in my life, it is a dream of mine to travel around the world. I would love to see the big cities like New York and Los Angeles and really anywhere in Europe as well as Thailand and Tokyo. Other than that I spend most of my time outside of work training in Brazilian Jiu-Jitsu and Mixed Martial Arts aiming to stay active and healthy. I am excited to meet you and help on the move!
Patrick R.
Mover
Patrick, also known as Pat, was born and raised in Silsbee, Tx. to a fantastic mother. Pat was decent in school academics, but was able to earn a full ride athletic scholarship to the University of New Mexico for football. There he met the woman that would later give birth to his two beautiful children, Omari and Mylah. Pat worked at many different places but as far as real career jobs he has enjoyed the time when he worked at Enterprise Rent A Car and when he was a substitute teacher in the Beaumont Independent School District.
Pat enjoys being active, playing flag football, going to the gym and lifting, also getting some good basketball hoop sessions in. Pat also enjoys fishing and last but not least, spending time and sharing laughs with his family. Ever since he was a kid, he's always wanted to be a great father and great husband. He wants to be in a position where he can really provide for his family and not struggle. Pat believe Einstein Moving can help him accomplish that goal.
Richard M.
Mover
Richard was born and raised in the small town of Brownsville Texas. He moved to San Antonio after high school to attend UTSA. With two years of credits completed he is working towards completing his degree. In his free time he enjoys staying active by mostly hitting the gym, its a great passion of his. He also enjoys playing video games, hanging out with his husky and kicking back with friends. He can seem quiet at first but has a sharp sense of humor. He considers himself a dedicated hardworking person and whatever the job calls for he is the one to do it right! He looks forward to helping with your moving needs.
Ryan W.
Mover
Ryan is originally from Mississippi. He moved to San Antonio to pursue bigger opportunities and ventures. He enjoys playing and watching football. Ryan is a hard worker and is ready to help you with your move.
Ryan W.
Mover
I was born in Llano, Texas and grew up there. After high school I moved to College Station where I attended Blinn College for kinesiology. I enjoy hanging out with friends and family.  I also enjoy movies and video games. I am easy going and just enjoy working hard. Traveling is also something I am interested in and I have had the pleasure of seeing a lot of the country working as a mover with other companies. After moving to San Antonio I figured I would pick up where I left off and bring my skills to Einstein Moving. I look forward to helping you with your next move and starting the next chapter of my life!
Seth B.
Mover
I was born and raised in Orange Texas. I have two brothers and we grew up doing everything together! I went to Little Cypress Mauriceville High School. I worked at a grocery store in my hometown from the age of 16 until I was 18 when I started working at Pappadeaux Seafood Restaurant in Beaumont Texas. In the start of 2020 I went to a car dealership but was soon let go because of Covid. I've walkways wanted to travel the states but never had the opportunity or money. A couple of friends and I decided to move to San Marcos to try to find new hobbies and enjoy life. When I'm done traveling I want to go back to school so I can go coach my old high school soccer team and teach.
Trachonitis (Tra) I.
Mover
Tra was born in Mississippi and raised in San Antonio.  Tra attended Steele High School and currently serves in the Army Reserves.  When Tra has free time he enjoys staying fit, listening to music, looking for a new restaurant, or just being a Dad.  In the meantime Tra looks forward to taking care of your moving needs!
Trey A.
Mover
I was born in Baton Rouge, Louisiana. I moved to Texas when I was young and have lived here for most of my life. I spent six years as a military professional.  In that time I enjoyed traveling, seeing different countries and getting to enjoying a variety of new life experiences. I am currently pursuing a degree in Wildlife Management. I like to do an assortment of outdoor activities for fun and to keep myself busy. I enjoy being around water most like fishing, kayaking, and trips to the beach.
Ysidro (Alex) G
Mover
Alex was born and raised in the greatest state in the Union, Texas.  He considers himself to be an old soul.  In his free time, Alex loves to work on cars, trucks, and motorcycles.  Alex loves to experience the open road on his motorcycle whenever he's not moving furniture.  Alex cannot wait to help you with your next move!