Voted best moving service in Austin! Our smart, efficient, and hard-working local movers will provide you with a stress-free moving experience. Get an instant moving quote today.
Book Your Move
Austin's Most Awarded Moving Company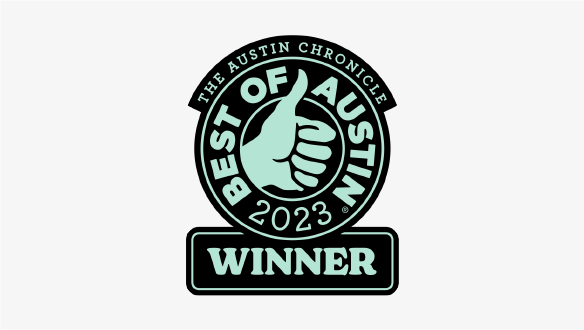 Voted Best Movers Of Austin by the Austin Chronicle — "Best pricing, best attitude." – Peter Schmookler
Best Movers in Austin
One of the 3 Best Rated Movers In Austin!
Best Rated Movers In Austin
Voted #1 Movers In Austin!
#1 Movers in Austin
Winners Of The Best Of The Best For Movers In Austin by The Austin American Statesman!
Best of the Best
Rated 4.9 on Google with over 825 reviews!
Read Reviews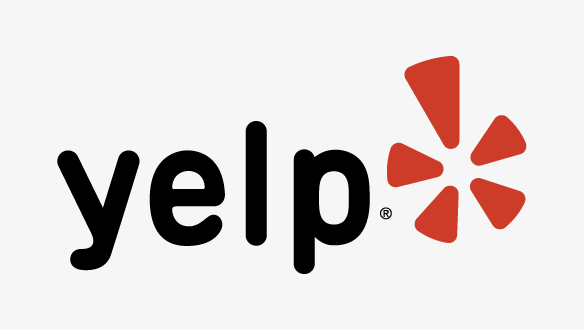 One of the Best 3 Movers In Austin!
Check Us Out
Super Service Award Winner!
Looking For An Award Winning Moving Company in North Austin?
North Austin is where Einstein Moving Company was first started back in 2012 and since then, we have helped thousands of customers move into and out of their homes within the greater Austin area. The owners, Paul Morin and Cameron Brown, were actually born and raised in North Austin and have been in love with the area their whole lives.
Ready to schedule your next move? Book with Einstein Moving Company today for professional movers — let us do the heavy lifting!
North Austin Moving Customer Reviews
Get In Touch With Our North Austin Team
Why Our Movers Love North Austin
North Austin is the place to be and it's no surprise that we are welcoming new residents to the area every day! North Austin isn't quite as "weird" as the Southern side of the city but it makes up for it with fantastic school districts, excellent green spaces, and an abundance of jobs in a number of sectors including clean energy, computer/software development, and advanced manufacturing.
Additionally, North Austin surrounds its quiet, peaceful neighborhoods, with stellar shopping at places like the Domain and the Arboretum and great hike and bike trails at Walnut Creek Park and Brushy Creek trail. Oh, and let's not forget Burnet Road. New restaurants are opening there every few months.
Meet Our North Austin Movers
Austin C.
Management
Austin was born in Abilene, TX, and raised in nearby Hawley. After graduating high school, he decided to head south to Austin where he was been living off and on since. In the big picture, Austin hopes to become a coach or work as some sort of physical director, as a healthy and active life has always been very important to him. Another thing Austin values is meeting new people and interacting with others, something seen daily in the moving business. When he's not at work, Austin likes being outdoors fishing, having family cookouts, or playing sports. He looks forward to helping with your next move!
Calvin Hughes
Management
Calvin Hughes was born and raised on a dairy farm in Claremont, New Hampshire. He grew up one of four children. He and his siblings spent much of their time chopping firewood and caring for the cows on the farm. After graduating from the University of New Hampshire with an English degree in 2010, Calvin moved to Seattle, Washington to pursue music. After a couple years there, he decided Austin was the place to be. Since moving to Austin in 2012, Calvin has enjoyed the rich music scene both on and off stage. He has been in the moving industry for over 5 years and thouroughly enjoys the fast paced atmosphere. When Calvin is not at work, he keeps busy writing and playing music. Calvin is working on his first novel, though very slowly. Calvin also is an avid sportsman and enjoys achieving fitness goals, though also very slowly.
Killian J. Hughes
Management
James was born and raised in Pittsburgh, Pennsylvania, more affectionately known as "the Steel City." Early on in his upbringing, James discovered an affinity for the sport of basketball, something he began to more seriously focus on when he started high school. After much success on the court in high school, James continued his career at Ohio University as a shooting guard. Academically, he focused his attention on Business Marketing due to his social nature but left Ohio University after year one in pursuit of something different. After completing his Associates Degree at the University of Pittsburgh, James ventured south to Austin, TX where he's been trying to explore as much of the city as possible. Outside of work, James enjoys working out, playing basketball, hanging out with friends, and video editing. He looks forward to helping you make your own move!
Nicholas (Nick) Dagel
Management
Greetings! My name is Nick, and I was raised in Austin, TX. I graduated from Texas State University with a degree in Health and Fitness Management. I love being outdoors and participating in activities to keep me in shape. There's something about doing manual labor and working up a sweat that leaves me with a strong feeling of accomplishment at the end of the day. Driving a pick-up truck, I was always that guy who was convinced by friends to help them move from place to place, so recently it occurred to me: "I should get paid to do this!" Moving people is a win-win for me. A job where I can help people and stay in shape.
When I'm not working, I am taking advantage of these beautiful Austin days. I love mountain biking various trails around the Austin area, getting a good calisthenics workout in at Auditorium Shores, running town lake, and training at the gym. I'm thankful to have a very healthy, functional body that allows me to live an exceptionally active lifestyle. When the sun goes down, I love going to live music shows and emerging myself in the Austin nightlife. I always make an appearance at ACL and SXSW shows. Life is good. I look forward to helping you move, and remember: "I like to lift things up and poot zem don again!"
Aidan L.
Mover
Aidan was born and raised in Houston, TX. After graduating from high school, he went on to a community college in Houston to pursue an associate's degree in science. After, he moved to Austin to attend The University of Texas, where he is currently completing a degree in Human Development and Family Science, along with a pre-med certificate.
Aidan enjoys music so much that he decided to join a band where he plays bass guitar. He also enjoys the sports and outdoor activities.
Alex K.
Mover
Alex was born in Moldova and received a bachelor's degree in Cybernetics and Economics. Prior to moving to Austin, TX, he lived in Colorado for five years where he ran his own car rental company. Upon moving to Austin, Alex began working at a furniture delivery company and found an affinity for the physical work. When he isn't working, Alex enjoys barbecuing and playing billiards. He speaks four languages and is always honing his skills. Alex looks forward to helping on your next move!
Andrew M.
Mover
Andrew was born in Binghamton, New York. He spent the first 20 years of his life there and spent most of his time playing the drums, basketball, and making "viral" youtube videos with his friends (none of these videos ended up going viral but hey, it was fun to dream). Andrew is the oldest of 4 children and is still pals with his siblings today, even after being picked on relentlessly, as is tradition for the oldest child. At 21, Andrew moved to Austin where he worked some interesting jobs in construction, butcher shops, and lawn care. He has been performing stand-up comedy in Austin for 6 years. He's performed at comedy clubs, theaters, bars, coffee shops, book stores, laundromats, furniture stores, and pretty much anywhere that has a microphone and isn't an active crime scene. He has many nicknames, the most popular being Drew, Murph, or Murphdog. Andrew is a big movie buff and is always down for some loaded fries at the Alamo Drafthouse.
Austin L.
Mover
Austin was born and raised in Windsor, Colorado. He grew up sharing his space with three other siblings. His oldest brother and he both graduated from college and decided that moving to Austin was the thing to do. Especially since this is his namesake city, Austin figured he'd have to at least live here for a little bit. Austin has his degree in Film and Television production and loves to make short films, skits, or creative projects in his free time. If he's not working you can find him either making creative content or on stage with a mic attempting to make people laugh. Austin has worked in pretty much every style of work since he was young, challenging himself with new opportunities and tasks. He likes to think of himself as an outspoken individual who enjoys the company of others more than anything else. Austin is looking forward to seeing every part of this beautiful city and getting you moved to your new future home!
Bryan C.
Mover
Bryan is originally from San Jose, California where he grew up and lived most of his life. Before he moved to Austin, Bryan moved to Southern California to work as a private security guard for a few celebrities and private clients.
His passion is for coaching and training individuals in physical endeavors like strength and conditioning and Jiu-Jitsu which he is certified in. Bryan spends most of his free time training Jiu-Jitsu and Weightlifting to be ready for Brazilian Jiu-Jitsu Competitions.
Christian B.
Mover
Christian was born right here in Austin but being a part of a military family he moved all the way over to Virginia during his childhood. He returned to Austin in 2012 and has felt at home ever since. Christian finished high school in Hutto and since then has done landscaping work in Steiner Ranch, maintenance work downtown, and janitorial work in Round Rock, so he certainly knows his way around the area. Christian is an avid Star Wars legion fan and loves to play the game with his brother on his days off. You can catch Christian online on overwatch most evenings or just painting and doing some bonsai stuff in his garden. He looks forward to helping on your next move!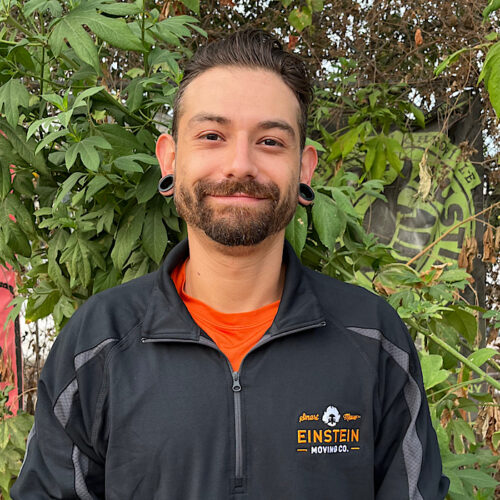 Christian L.
Mover
Christian was born in San Antonio and graduated from Southwest High School but has resided in Austin since 2008 while he began attending the University of Texas. He spent numerous years in customer service and sales roles to support his young family. Most recently he enjoyed over a year of home schooling his 2 kids. Christian's passion lies in playing the drums and going to concerts. He also enjoys shooting pool, collecting comic books, and playing video games.
Christopher B.
Mover
Christopher is originally from Killeen, Texas and has spent the majority of his life in the Austin area. He graduated from the Art Institute of Houston and continues to make art to this day. Christopher enjoys designing clothes and doing photography and often does events around the city. When he isn't working or working on his various art projects, Christopher likes to play basketball, work out, and spend time with family. He looks forward to helping on your next move!
Collin O.
Mover
Collin was born in Coatesville, PA, a suburb of Philadelphia. He graduated from his local high school and then attended West Chester University in West Chester, PA. He had lived in the same 25 minute radius for 22 years, until his dreams of pursuing his budding comedy career full time brought him to the great City of Austin this summer. Collin has been a comedian for a few years and was on the fast track in the New York City scene until the pandemic brought his young career to a screeching halt. Now fully enthralled in the Austin Comedy circles and the city himself, he spends most of his free time on the stage, writing, or hanging out with his fellow comedians. He is also a huge Philly sports fan, so don't hold that against him.
Corey B.
Mover
Corey was born and raised in Leander/Austin, Texas, and has been here his whole life. He went to John B Connally and graduated from high school in 2017. Corey worked as kitchen staff for the girl scouts at Camp Texlake for 5 summers in a row. From there he went to working at Galaxy Cafe for 3 years, but realized he wanted a more physical job. This led him to the moving industry and a stint at Urbanspace Logistics.
Corey's big passion that has guided him over the years is playing video games. It has taught him so much about himself and his abilities as an individual that he would apply them to everyday activities without realizing it. Although life isn't always fantasy and fairy tales, you do need to find something to support what happens behind the scenes of a person. This has inspired him into looking at becoming a pilot so that he can be making the big bucks to hopefully give his future a bright outcome. Corey looks forward to helping on your next move!
Daniel B.
Mover
Daniel has lived in the greater Austin area for all of his life. He graduated from Cedar Ridge Highschool and attended Stephen F. Austin State University for a couple semesters. His hobbies include physical fitness activities such as indoor bouldering, running, biking, hiking, or just working out. He is currently working towards becoming a songwriter and spends a lot of his time playing guitar and piano. He loves all kinds of music so feel free to play some tunes as he moves you. Daniel looks forward to helping you on your move!
Erik L.
Mover
Erik was born in California but grew up in Pennsylvania. In Pennsylvania, he obtained his bachelors in Biology at the University of Pittsburgh. While his passion is in medicine, Erik also developed a hobby of self improvement and endeavored on a business opportunity. He relocated to Austin to step out of his comfort zone and grow in an area where opportunities seemed endless compared to Pennsylvania. In his free time he enjoys working out and playing sports like basketball and ultimate frisbee. Erik spends a lot of time learning and trying to scale his business. He looks forward to assisting on your next move!
Gabriel B.
Mover
Gabe grew up in Killeen, Texas, some would say the crown jewel of central Texas. He also lived in Brazil for a period of time and is fluent in Portuguese. Gabe's family moved further south when he was in high school and he graduated from Liberty Hill High School in 2019. Gabe has always worked labor intensive jobs, which is why his experience is evident when he's on the job here. In his spare time, Gabe enjoys reading, watching movies, and swimming at Barton springs, the real crown jewel of central Texas. He also enjoys hanging out with friends and family and staying active outdoors. Gabe looks forward to helping on your next move!
George B.
Mover
George was born in Fairfax, Virginia but raised right here in Austin, TX. He prefers to go by Stefan and has been in the Austin area since 1998. George loves working out, especially running. He used to run track back in high school and college and currently enjoys running trails. George has two kids, a son and a daughter, and loves spending as much time as he can with them. He is also an avid dancer and is able to dance to almost any genre. He has been in the moving industry since 2015 and loves the opportunity it gives him to help others. George looks forward to helping on your next move!
Graham G.
Mover
Graham grew up in Round Rock, Texas. He currently attends the University of Texas at Austin focusing on a double major in English and government. Ultimately, Graham aspires to go to UT's law school.
His favorite hobby is Mixed Martial Arts, something he's been practicing for years. While he's not at his MMA gym, Graham enjoys reading, watching TV, and cooking.
Hugh M.
Mover
Hugh was raised in Colorado Springs and has been traveling all around the world since 2012 when he joined the Marine Corps. Briefly, he lived back in Boulder from 2017-2019 to finish his degree before deploying again. Since being in the Marine Corps he has had the opportunity to travel across America, Europe, Africa, and Asia. Hugh has recently moved to Austin to be closer to his unit and take part in the opportunities that go along with one of the fastest-growing cities in America. This year Hugh has been writing his first novel, earning his skydiving license, and scuba diving at the NASA training facility in Houston. Hugh spends his free time running around Town Lake, playing card and board games with friends, and attending the music and comedy available here in Austin. For Hugh, as long as the day starts with a warm cup of coffee everything else feels like it is going to be alright.
Jaxon P.
Mover
Jaxon was born in Austin, TX and for 20 years has lived in the suburbs of Cedar Park. Upon graduating from Cedar Park High School he began working at a bar on Sixth Street learning all the ins and outs of his home city. Jaxon has been a student of martial arts for 5 and a half years and he finds himself enjoying it more each and every day. Most of the free time he gets he spends on learning how to better his craft and even hopes to turn pro at some point in the next few years. Jaxon looks forward to knocking out your next move!
Jordan P.
Mover
Jordan was born in Brooklyn, New York and raised in Dallas, Texas by a mother who is from Brooklyn, and a father who was born and raised in South-Central Los Angeles, California. Jordan has always been a big fan of sports and continues to watch and play numerous sports to this day. He loves to stay active and enjoys the moving industry since it allows him to work out at work. Jordan looks forward to helping on your next move!
Jose C.
Mover
Jose was born in San Bernardino, California and moved here to Round Rock in the year 2006. Jose loves it here and loves the climate. He graduated from Stony Point Highschool in 2018. Jose has a background in physical labor work from asphalt landscaping and delivery. He's eager to work and plans on staying in Texas for the foreseeable future. When he's not working, Jose enjoys the outdoors and spending time with family.
Joseph W.
Mover
Joseph recently moved back home from Boise, Idaho. He was originally born and raised right here in Austin and went to school in the North Austin area. Joseph has been in the moving industry nearly half his life (15 years) and still enjoys it everyday. He believes it to be beyond satisfying to see the joy on others beginning a new chapter. Joseph is a certified personal trainer and nutrition coach, and does online personal training, which is where his passion lies. He is also currently enrolled in real estate school and looks forward to growing his career there while running online training. A few things Joseph really likes are getting out into the mountains for a long hike, traveling to new places, trying new foods, and making core memories with people he'll never forget.
Joshua W.
Mover
Joshua is a proud native of Cedar Park, Texas, where he grew up. From his early years in middle school to his high school days, Cedar Park has been his home, shaping his character and instilling in him a strong sense of belonging. After completing his secondary education, Josh embarked on a journey of knowledge at Austin Community College, where he earned his two-year associate's degree. This educational milestone provided him with a solid foundation across various subjects and honed his analytical thinking skills. But Josh's thirst for knowledge doesn't stop there. During his free time, he dives headfirst into the fascinating world of crypto technologies, constantly seeking to expand his understanding of blockchain, decentralized finance, and other innovative concepts shaping our future. When he's not immersed in the intricacies of crypto, you'll find Josh nestled in the pages of a captivating book. Literature is his sanctuary, allowing him to explore new realms, gain diverse perspectives, and fuel his imagination. But life is about balance, and Josh also treasures the moments spent with friends. Engaging in meaningful conversations and building connections with like-minded individuals brings him immense joy and fulfillment. Josh has a dedication and passion for continuous learning and a deep appreciation for community-oriented mindsets. He is eager to contribute his knowledge, enthusiasm, and commitment to fostering a thriving community of individuals who share a common vision for success.
Justin W.
Mover
Justin grew up in Austin, Texas and has stayed in the area following high school. He is currently in school for firefighting and software engineering at ACC! Justin's go-to pastimes are walking his dog, going to the gym, and spending time with his family! He also still loves getting out and exploring this great city. Justin enjoys the physical aspect of moving and looks forward to helping on your next move!
Kalen A.
Mover
Kalen grew up in the small town of Graham, WA. He completed his AA degree at the same time he graduated high school and then attended school for air traffic control. Kalen almost completed his degree before deciding to go full time with music and now tours the world many months out of the year. Outside of music Kalen enjoys going on adventures with his wife and their pets.
Keith R.
Mover
Keith grew up in a military family, so he and his 3 siblings didn't really get to set roots anywhere until his mom eventually got injured in Afghanistan and needed to retire from the air force. They moved to Colorado when he was 11 and even then they didn't stay in the same house/town for long. They just liked to move a lot, which Keith didn't like as a kid but in retrospect he wishes they moved more. Although Colorado wasn't where he was from, Keith quickly picked up the habits and hobbies of someone who was from that beautiful state. He loves to hike, rock climb and snowboard, and the only one of those he can do here in Austin is rock climb. The hiking just isn't the same here. Keith doesn't just only like to do things outdoors, he's also a big fan of video games and the occasional 10 pages of a book (he has a hard time reading more than 10 pages though, Haha). Keith's education doesn't span much further than high school, although he did milk high school for all it had to offer. He was a straight A student who took the AP and honor roll classes during all of grade school. It sounds like bragging but how could you brag about something that hasn't really helped him all that much in real life. He doesn't tend to use derivatives and trigonometry on a day to day basis. From high school Keith went on to move to Boulder, Colorado where je attended CU Boulder for a single semester before realizing he didn't want his life to be spent paying off student loans. It was $7,000 dollars a semester for his dorm room alone. Then add food, classes, textbooks, and the occasional 6 pack and he decided it wasn't worth it. Keith still might go back to school but for now he's focusing on figuring out who he is and what he wants out of life, and he doesn't need to spend $120,000 to figure that out at some fancy college campus. In the mean time Keith spends his nights up on an open mic stage or with his friends at "DontWatchTheClock" productions, making movies and short films. All in all he'd say he's a pretty simple dude.
Kiernan H.
Mover
Kiernan was born and raised in Austin, TX, and has lived here his whole life. He attended McCallum High School in Central Austin and is currently enrolled at ACC. His major is in General Studies, but he plans to get a degree in either Supply Chain Management or Computer Science from UT or Texas A&M. He will be starting his second year at ACC this fall and plans to transfer the following year. Kiernan is an outdoor enthusiast with many hobbies including running, ultimate frisbee, rock climbing, snowboarding, paintball, and just about anything else under the sun. One of his favorite activities is backpacking. He enjoys the challenge of surviving in the wilderness using only what he is able to carry. One of Kiernan's goals for the future is to travel to various countries and experience different cultures.
Lee S.
Mover
Lee was born and raised right here in Austin, TX and graduated from Crockett High School in 2016. He played varsity basketball all four years and basketball is still one of his main hobbies to this day. Lee also loves listening to music, going hiking, being outdoors, spending time with family and friends. Lee's professional background includes many different work environments ranging from warehouses to conveyor belts to delivering packages to moving and storage to customer service. Lee has always liked fast paced jobs and enjoys the physical aspect the moving industry offers. He looks forward to helping on your next move!
Logan C.
Mover
Logan was born and raised in San Antonio TX, recently took a break to get out of Texas to go to Colorado, and now is back in Texas living in Austin. For most of his life, he has worked for his Grandfather handling clients and client info. Logan loves the outdoors and indoors and hobbies include running, trail seeking, and video games. Logan has big goals in his life, wanting to invest in real estate and start his own company.
Lukas K.
Mover
Lukas was born and raised in New York City and joined the Marine Corps right out of high school. After his 4 years of service, he moved to Pennsylvania for 3 years. Growing restless and ready for a change in his life, Lukas moved down to Austin for a fresh start. Lukas enjoys spending his free time with his dogs, going outside and exploring nature, and working out. He looks forward to helping with your next move!
Marco A.
Mover
Marco grew up in the south part of Texas his whole life and moved to Austin last year for school. He graduated with a Bachelors in Communications with a minor in Sports Media from the University of Texas at Austin. Marco was able to get his associates in Biology while he was still in high school, so he only attended UT for 2 years. All of his former jobs had a lot of customer service and sales aspects where he could help other people find stuff. He is happy that at Einstein he gets to move around a lot more and exercise while working. In his free time Marco likes running a lot and lifting weights at the gym. He used to run cross country in middle and high school, so the hobby kind of stayed with him. Marco is a huge football fan of the Seattle Seahawks and Texas Longhorns, even going to multiple games the last 2 years. He likes listening to 80s music and trying to practice songs on guitar, his favorite being Guns N Roses. From time to time Marco also likes playing video games like Guitar Hero and Resident Evil 5.
Matthew B.
Mover
Matthew was born in Victoria on  June 21, 1995. He grew up in Victoria, where he met his girlfriend. Matthew and Morgan have been together since they were 15. Morgan and Matthew have two children, a daughter Addison age 7, and a son Mason age 1. Matthew moved to Elgin to relocate with family. Matthew believes family is the most important thing in life. Matthew believes living life to the fullest and making the most of family time is important.  Professionally, Matthew has spent most of his career in the customer service industry, placing utmost value on areas that allow him to help others in need. Personally, Matthew loves to work out at the gym. He looks for new and exciting activities to try in Austin and surrounding areas for him and his family.  Matthew also loves cars, cooking, making his own spices, and pranking Morgan.  Matthew's most favorite thing though is spending time with Morgan and their kids making family memories.
Matthew D.
Mover
Matthew was born an air force brat up in Michigan and has found himself traveling and living in many different places.  He's lived in England, New Mexico, Arizona, and finally Texas where he's have been living for the past 4 years.  It has instilled in him a love of travel and he hopes to visit other countries like Japan and New Zealand in the near future.  Matthew's background is with customer service so he has helped customers with anything from explaining a bill to supporting them through the toughest of times.  He is here to help and get you moved into your new place as soon as possible and protect your valuables all the while.
Matthew enjoys a very active lifestyle from going to the gym, riding his bike, and finding new events throughout the city to enjoy.  He also takes the time to relax: playing his guitar, writing poetry, and painting.  Matthew believes it's very important to look out for people in need so he volunteers for a suicide prevention chat for youth 13-25.  His dream job is a motivational speaker because he wants to make a significant impact and help as many people as possible through their struggles towards their own dreams. Matthew looks forward to helping on your next move!
Matthew L.
Mover
Matt grew up in Mechanicsburg, Pennsylvania and went to college at Temple University. Upon graduation with a degree in Sport Management, Matt relocated to Austin, TX with some of his life-long friends to start a new journey in their lives. Matt has been hosting a podcast called the Define Success Podcast for almost 2 years now where he interviews successful entrepreneurs, athletes and authors on how they view success. Matt enjoys traveling and has a goal of visiting all 30 MLB stadiums in his lifetime. He is currently at 24/30! Coming from a background in landscaping, Matt has experience providing homeowners with high quality services. Between that experience and his passion for weightlifting, he will make your next move efficient and effortless for you.
Matthew R.
Mover
Matthew is currently a digital marketer and copywriter. He just moved to Austin about two and a half months ago and he's absolutely loving it. The people, the city, the food, and yes even the traffic (jk)! Matthew grew up in a small golfing community in Pinehurst, North Carolina even though he doesn't golf, like at all. He attended Sandhills Community College to pursue Computer Science. Matthew loves going to the gym, going on runs, playing video games, making content, literally everything! He is a highly ambitious individual and strives to be the best in everything he does. That's also why he is pursuing so many things because it keeps him busy and gives him a challenge. Matthew looks forward to helping on your next move!
Mauro (Isaac) L.
Mover
Isaac was born in Houston, but has spent the last decade in Austin. He attended Spring Woods HS and is currently at ACC finishing up his engineering associates with future plans to go to UT or A&M next year. Isaac likes being outdoors with many hobbies including biking, running, paddleboarding, and also just relaxing under the sun. Isaac's dream goal for the future is to work for NASA, followed by traveling to new places and seeing new cultures.
Michael F.
Mover
Michael was raised in Comanche, TX, a small town about two hours north of Austin. He graduated from Comanche High School and then moved to Lubbock. He is currently enrolled at Western Governor's University studying Special Education, so he can eventually become a teacher! Michael enjoys reading books of the Fantasy genre, creating Lo-fi tracks, and spending time with his friends. He also livestreams on Twitch and uploads videos to YouTube! When he's not studying, or at the gym, he's always thinking of his next greatest project that he can bring to life.
Nicholas (Sabastian) D.
Mover
Nicholas was born in Fort Smith Arkansas and lived primarily either in Arkansas and Oklahoma for much of his life. Nicholas was raised around musicians and after graduating high school he began playing out in local bands in Tulsa as a vocalist/guitarist. Within the last couple years he joined forces with three seasoned musicians from the bands Red Sun Rising and Wilson. Covid has slowed the music scene down and made things more complicated but Nicholas and his band New Monarch are gearing up for the release of their debut album.
Recently Nicholas saw an opportunity to move to the great state of Texas and brought his family along for the ride. He looks forward to becoming a part of this great town of Austin. In his free time he practices music, takes long walks by the nearest bodies of water and is striving for his purple belt in BJJ.
Ricardo L.
Mover
Ricardo goes by Ricky and grew up in Pennsylvania. He recently graduated from Penn State University with a degree in neurobiology. In his professional career he aspires to be an anesthesiologist. Following graduation, Ricky moved to Austin with some friends to explore new opportunities. In his free free time Ricky enjoys going to the gym, reading and learning how to become the best version of himself. He has worked hard on starting a couple of businesses as well as a podcast where he aims to motivate the youth to be their best selves. Ricky looks forward to helping on your next move!
Robert B.
Mover
Robert moved to Austin, TX from California about 6 years ago. Texas is a great state with a lot to offer and great people everywhere you go and Robert has thoroughly enjoyed living here. He enjoys meeting new people and trying new things to keep life interesting! Robert is easy going and a hard working family oriented person. He enjoys spending time outdoors, seeing shows when he can, and exploring all that Austin has to offer.
Ryan M.
Mover
Ryan was born in Phoenix, Arizona, and spent ample time in Hawaii and California before moving here to beautiful Austin, Texas. He graduated from Kaimuki Highschool in Honolulu and then embarked on a two-year stint at the University of Hawaii. Ryan hopes to eventually go back to school to complete his degree in Liberal Arts. In the past, he worked in retail for four years, was a factory operator for two years, and a cook for a year. When he's not working, Ryan likes to be outdoors as much as possible, hiking and swimming the days away. He also loves playing music and spending time with his family and friends. Ryan enjoys a challenge and is consistently setting goals for himself to work toward. He looks forward to helping with your next move!
Sam H.
Mover
Sam is originally from Glasgow, Scotland but moved to the states when he was four years old. Early on, he and his family hopped around California until relocating to Houston and then finally Austin. Sam has been in the Austin area ever since and loves what the city has to offer. Though mainly a home body, when he does have some free time Sam loves hanging out with friends and spending time with family. He has two kids who are his motivation and drive to always succeed. Sam looks forward to helping on your next move!
Thane H.
Mover
Thane is originally from Washington where he grew up hiking consistently in the great Northwest. Throughout his childhood, Thane was also an avid wrestler and enjoyed the physical and mental nature of the sport. After high school, Thane ultimately ended up in Florida for three years where he worked as a cook/bartender. Following his stint in Florida, Thane made the trek back west to Austin where he has been living ever since. When he isn't working, Thane likes relaxing by the pool, exploring new restaurants, and hanging out with his cats. He looks forward to helping out with your next move!
Thomas (Branch) F.
Mover
Branch was raised in Sinton, TX, a town in South Texas around Corpus Christi. After high school he moved to Lubbock, TX to find a good job. The main jobs he worked was at an oilfield company for a year in Midland, TX and for a moving company in Lubbock on-and-off since 2017. Then in 2019 Branch started going back to school and ended up at Texas Tech University. He has almost finished his degree, only needing a few more credit hours with online classes. Branch just moved to Austin a week ago. In his free time Branch hangs out with friends, goes to the gym, or watches movies. He also does some boxing and a little Jiu-Jitsu, though it's been awhile since he's really trained at either.
Tony B.
Mover
Tony is from Taylor, Texas. He graduated from Jarrell High School in 2016 and after that he played Division I football at Army West Point. In 2021 Tony graduated from Kansas Wesleyan University with a Bachelor of Science in Sports Management. He currently plays professional football overseas in France for part of the year. In his free time Tony likes to lift weights or play video games such as Madden or Call of Duty. Tony also likes to listen to music and watch Netflix . He loves shoes, but not as much as he loves food. Tony has three older brothers and two younger sisters. He looks forward to helping on your next move!
Tyler R.
Mover
Tyler grew up in a smaller town called Orange and was raised there all his life. It's southeast Texas down by Louisiana. The school he went to was called Little Cypress and that's where he graduated from high school. After school he started working and his first job was at Home Depot. A few years later he started working a warehouse job at a company called Akro Tex. The most recent job Tyler was working at before he moved to Austin was landscape/lawn maintenance. In his free time Tyler likes to play basketball, hang out at home, or occasionally go out with some friends. Tyler looks forward to helping on your next move!
Tyrese W.
Mover
Tyrese was born and raised in Houston, Texas where he became the oldest of 2 younger brothers. Tyrese comes from a big football family and himself and his siblings all grew up playing the sport. Coming out of high school he obtained an athletic scholarship to play at Oklahoma State University where he also pursued a business degree in management. After four great years he then moved back down to Austin, Texas to get his feet wet in the Tech industry. Tyrese is an avid car guy so in his free time you can always catch him wrenching on cars, going out with friends on a nice cruise together, or enjoying motor sports!
Vicente N.
Mover
Vicente, though he goes by Chito, is an Austin native, born and raised bleeding orange. He is currently in college with the goal to become an MRI Tech also specializing in nuclear medicine. Chito is also an amateur mixed martial arts fighter, wanting to go pro in the next few years. He has quite a few friends fighting in some big promotions like the UFC, One Championship, Bellator, etc. Chito's self plan is to become a UFC champion one day and make his mom proud . Most of his days consist of training, school work, and spending time with family and friends. Chito loves being active and staying on the move and thrives in fast pace environments. He loves figuring out tricky and complex things/situations and never shies away from a challenge. Chito is always ready to push himself to new limits and soak in as much knowledge and information as possible.
Vicente S.
Mover
Vicente, but you can call him Vince, is an Austin native born and raised on the south and east side of Austin. He went from walking the streets of Austin to playing basketball at a junior college in Kansas. Vince loves to travel and go on hikes all around Texas and the U.S. Vince is proud to be a father and spends most of his free time playing and teaching his 2 daughters and son. He loves music, movies and food. Vince has been professionally moving since 2017, but has always been the one to call when anyone who needed help before then.